Using Nebulas¶
If you are a developer and want to develop a DApp or use the mainnet, please visit the develop chapter and tutorials to learn more about Nebulas technology and find develop resources. If you are an individual, there are four ways to use Nebulas:
1. Use an application built on Nebulas¶
View recommend DApps here. You are welcome to submit the form to recommend more DApps. And you can find more DApps in the The Nebulas DApps Store by the community member m5j.
2. What's NAS and how to get it?¶
NAS is the native (utility) coin of Nebulas, viable for payment of transaction fees and the computing service charge. Click here to view the distribution. The Nebulas blockchain provides native incentives to encourage developers and community members to build a healthy economy and ecosystem.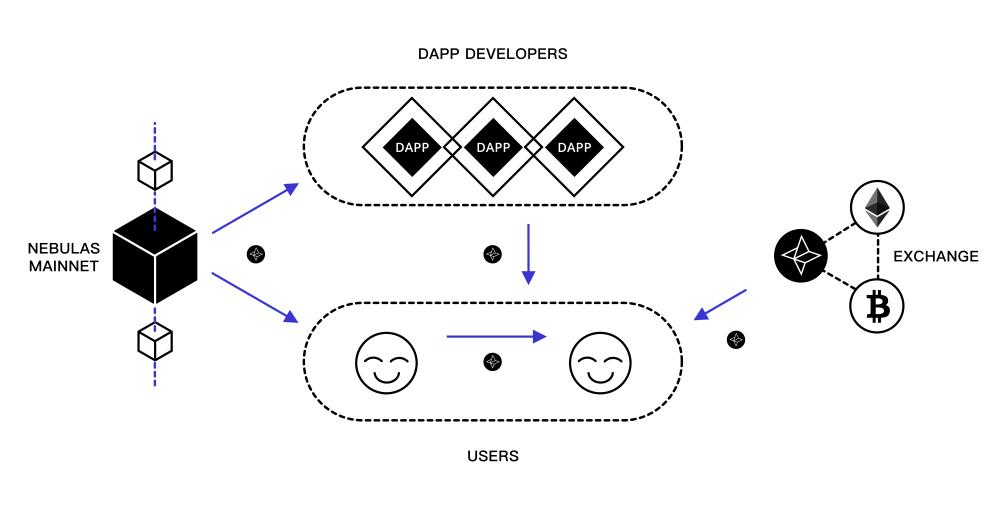 You can buy & sell NAS from exchanges, click here to view the exchanges list. You can also buy NAS from CoinSwitch and SWFT Blockchain.
You can also be a community contributor and earn NAS. Please visit nebulas community collaboration platform: Go.nebulas.
3. What's a wallet and how to hold NAS?¶
NAS nano pro¶
NAS nano pro is the official wallet, developed by the Nebulas team. You may download it here. It has a beautiful, easy-to-use interface, and implements all the features of a robust cryptocurrency wallet, as well as multiple security policies, so that users can easily manage their NAS assets without a steep learning curve.
The NAS nano pro wallet comes with four main features:
Quickly and easily create, import, and manage wallets.
Check the transaction progress in your wallet at a glance.
Provide three kinds of wallet backups, including mnemonic, Keystore, private key backups, to minimize loss and theft of assets.
Support NAS, as well as other NRC20 tokens, such as NAX and ATP. If you want to list your token on NAS nano pro, please click here.
Other wallets¶
These following wallets support NAS, you can select the one you liked:
Click here to learn more details about these wallets.
4. What's NAX and how to get it?¶
This smart asset is generated by decentralized staking and is the first token on nextDAO. Users on the Nebulas blockchain can obtain NAX by dStaking NAS. NAX adopts dynamic distribution strategy where the actual issuance quantity is related to the global pledge rate, the amount of NAS pledged individually and the age of the dStake.
NAX is more closely related to its ecosystem and constitutes a positive-feedback economy. Visit nextdao.io to learn more.
There is only one way to mint NAX: dStaking NAS. But there are three ways to obtain NAX:
dStaking NAS and obtain NAX:
Buy & Sell NAX from Exchanges:
Swap NAX: Swap NAX via many other tokens on SWFT Blockchain.